Build stunning Tebex templates in seconds.
From the author of Sparox and Arcus
Trusted by 500+ customers
5/5 (45+ ratings)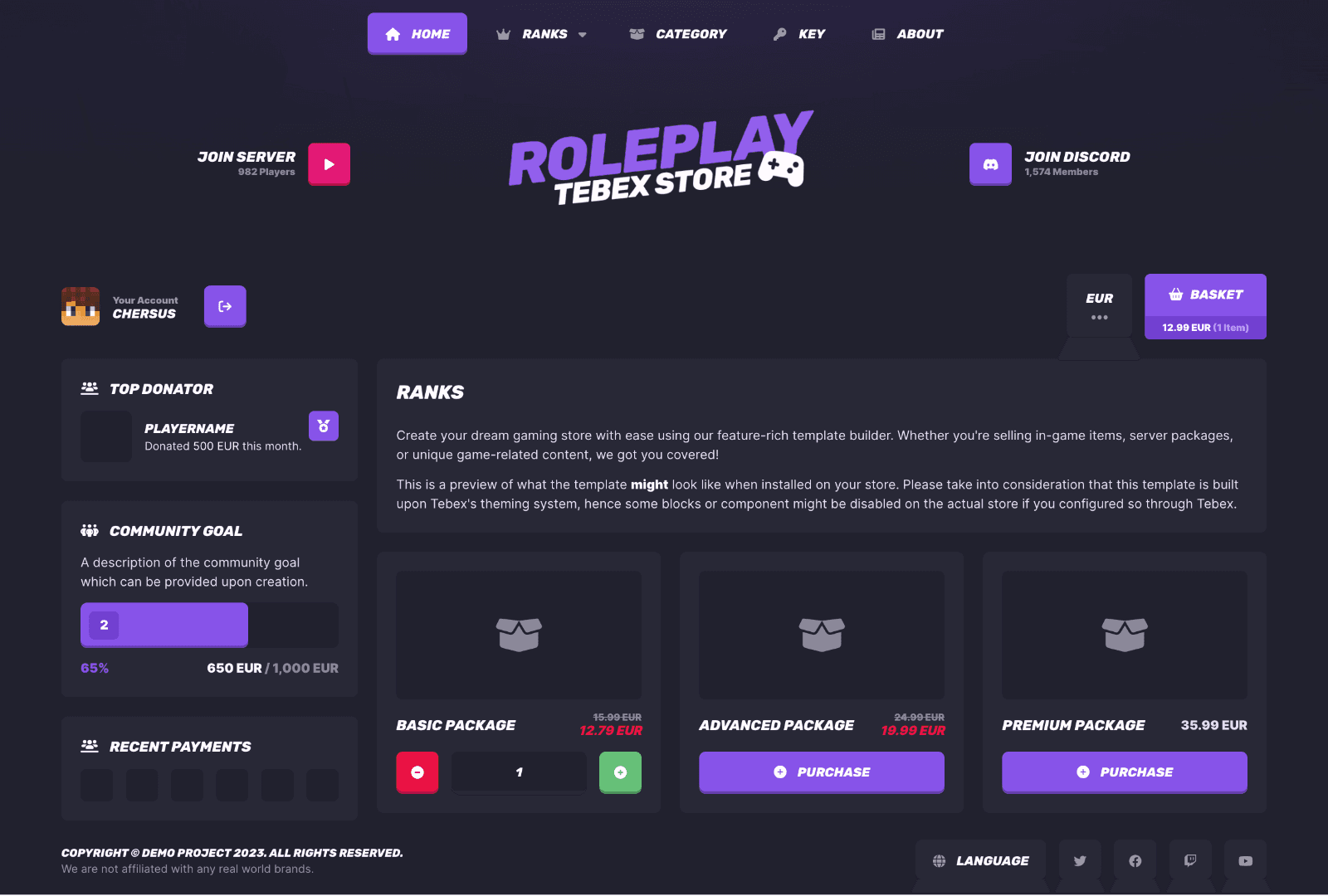 Stop wasting hours on building templates.
Say goodbye to wasting hours creating Tebex templates from scratch. Use Fragmentor to compose fully functional webstores in just seconds. Instead of spending time on repetitive work, focus on adding your personal touch.
Years of experience put into one simple product, for hundreds of people to use.
Inexpensive
Customizable
Fast
View Pricing
Option 1: Hire a freelancer
One way to get a Tebex template is to hire a freelancer to build one and cater it to your needs. The downside, it turns out to be quite expensive.
Option 2: Purchase a template
Premade Tebex templates have limited customizability, even more so, they are often hard to edit.
Option 3: Build a template yourself from scratch
Building a template yourself, especially if you do not have the right experience, can be a slow process.
Step 1
Cycle through our prebuilt fragments.
Search our library of components, modify each one of them to fit your exact needs, and use it to build a template you enjoy.
With over 40+ components we aim to provide every store with a unique brand.
Fully Responsive
Customizable Variants
Carefully Crafted
Step 2
Choose a style that fits your business.
A simple, yet innovative way of styling your webstore. There's no need to know the ins-and-outs of website development, just select what looks best!
With options to create unique buttons, select matching colors and find the right font pairings.
Step 3
Download and install your template.
Got something you're happy with? Download the template files and install it on your Tebex store to share with the world.
Making use of the latest innovations in the industry, built using TailwindCSS.
Minimal File Size
Source Files Included
Easy Installation & Setup
Try Now
Built with Fragmentor.
Unlock a world of possibilities with Fragmentor. Claim the creative freedom to shape the perfect style and layout for your Tebex store.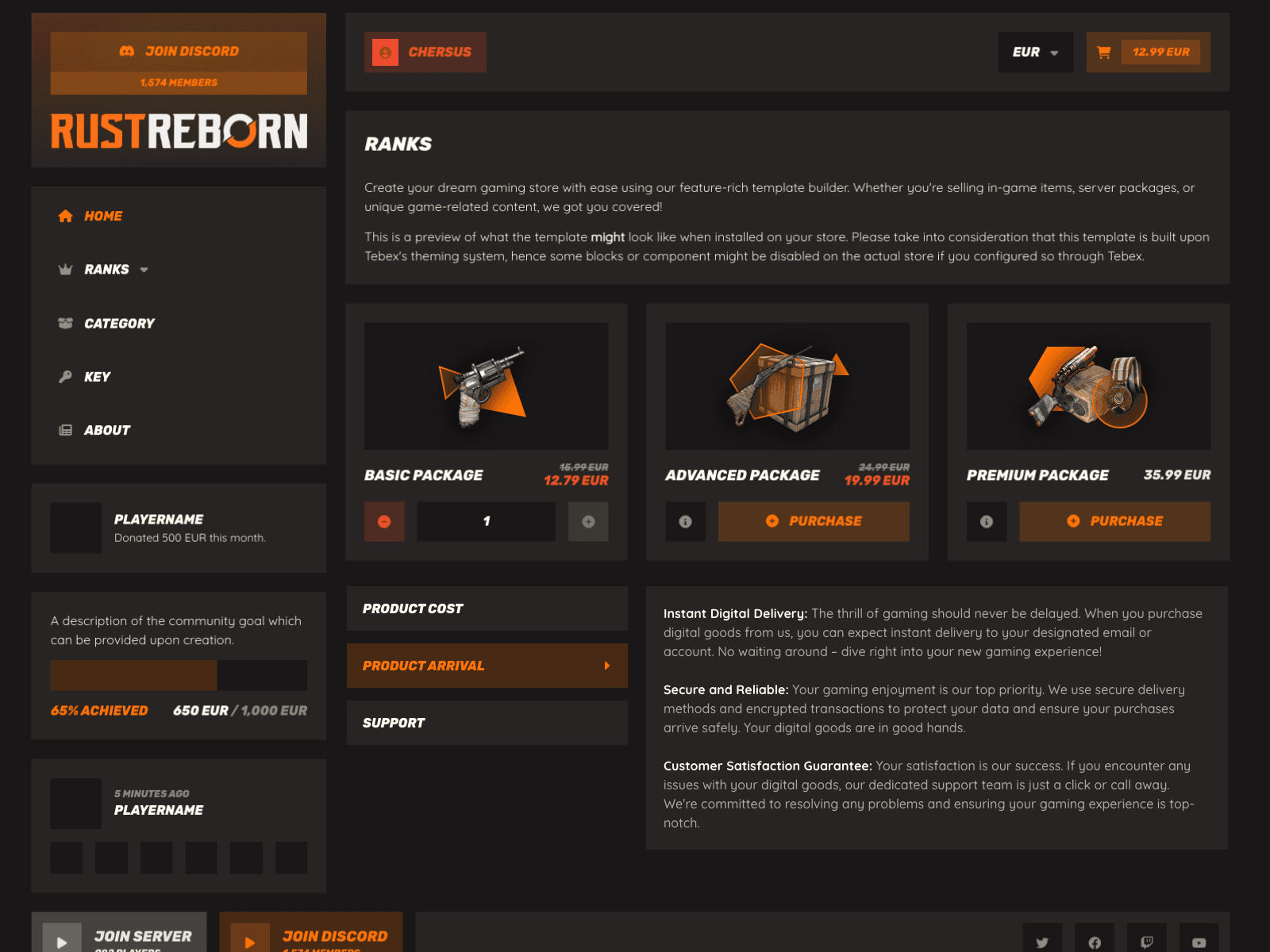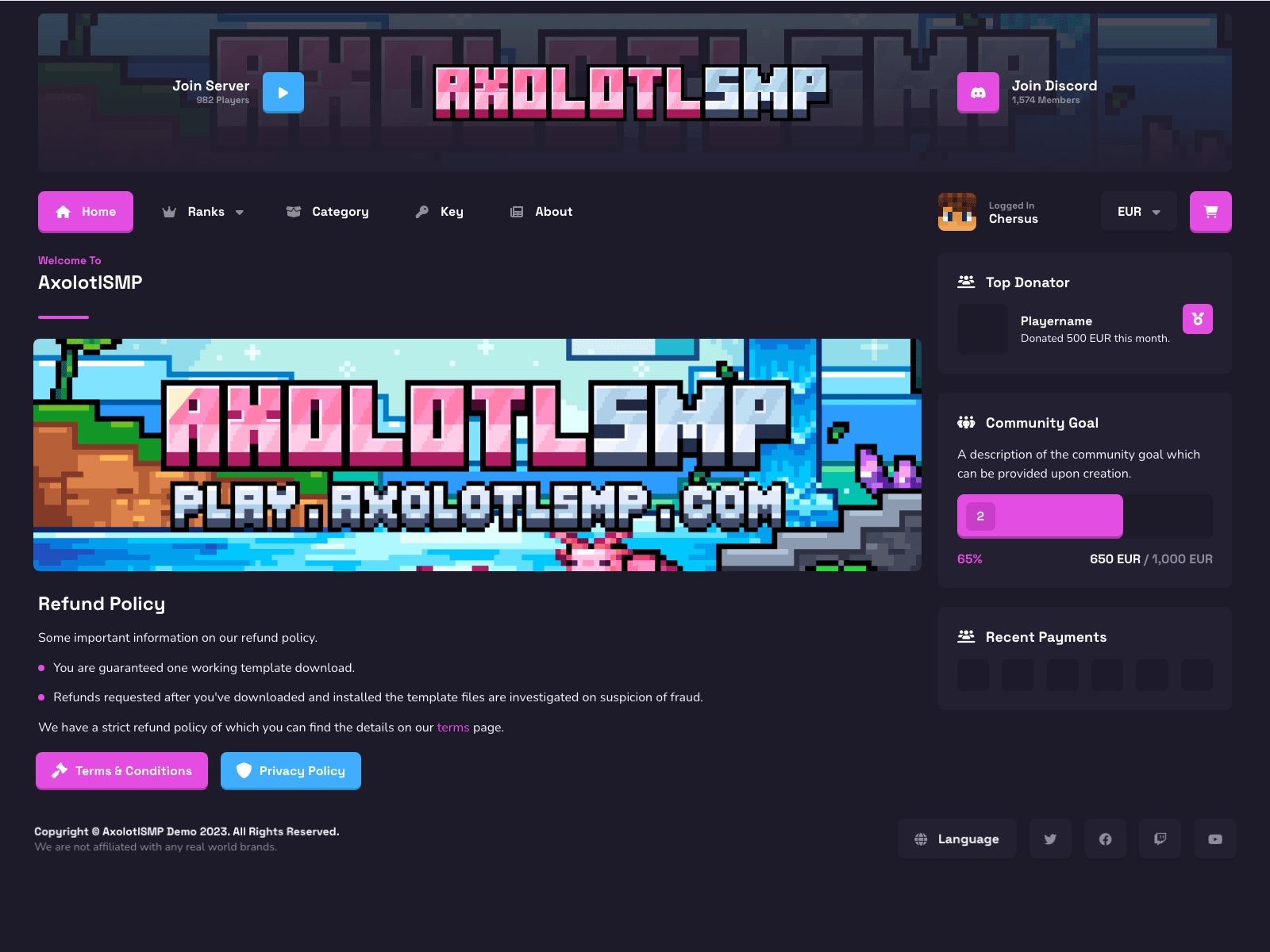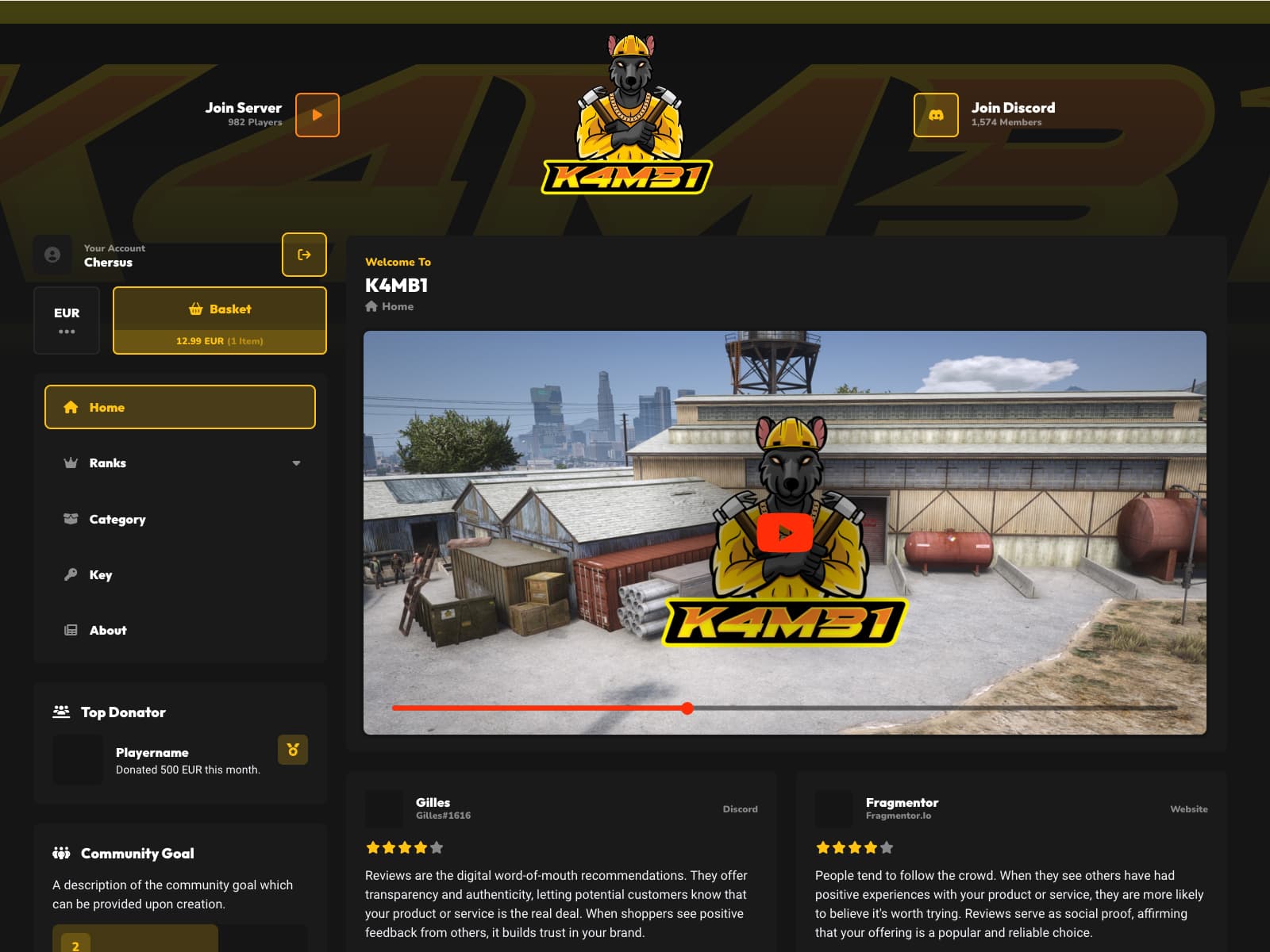 Affordable pricing for all.
Whether you are a business owner or a contractor working for a business, we got you covered. Know exactly what you are getting with our transparent pricing.
Free
For people who want to try out our product.
€0
Free Forever
1 Project
No Weekly Downloads
No Support
Preview Limited Components
Create Account
Starter
For a small business running one website.
€89
For 1 Year
1 Project
5 Weekly Downloads
Premium Support
Access All Components
Purchase
Pro
For larger businesses running multiple websites.
€199
For 1 Year
5 Projects
20 Weekly Downloads
Premium Support
Access All Components
Purchase
Frequently Asked Questions
What is Tebex?
Tebex is an all-in-one monetization platform designed to grow a business in the gaming industry. The company was founded back in 2011 to allow for MineCraft server owners to sell ranks, cosmetics and more. Since then it has expanded, and now supports a variety of games such as Ark Survival, Rust, FiveM, Unturned, etc.
What are the requirements to use Fragmentor?
Fragmentor is a tool that allows you to quickly build Tebex templates. In order to use these templates on your Tebex store, you will need a Tebex Plus subscription.
How does Fragmentor work?
Our template builder for Tebex allows you to easily create and customize templates for your store. With our intuitive interface and powerful features, you can design a unique and professional template that caters to the gaming community.
Is Fragmentor easy to use?
Absolutely! We specifically designed our template builder to be user-friendly, even for those who have no experience in creating websites. You can choose from a wide range of predesigned components (or fragments as we call them) and customize them to match your brand and style.
What is the difference between a theme and a template?
The terms "theme" and "template" are often used interchangeably, and often times they are actually the same. Tebex refers to templates as the general layout of your webstore, while a theme is the styling applied to that layout. Luckily you do not need to worry about terminology, both theme and template are included!
What platforms does Fragmentor support?
Currently, our component library only consists of Tebex components. If you would like to see us support other platforms as well, please be sure to reach out.
Will you be adding more fragments?
Yes, we continue to support our subscribers with new fragments. If you have any suggestions as to what we need to create, don't hesitate to shoot us a message.
Is customer support available?
Yes, we offer dedicated customer support in English to assist you with any questions or issues you may have. We are available via email or Discord.
Why do I have to pay yearly?
We opted for a subscription-based model to make sure we can continue to support our customers and carry on our legacy for years to come. For those people who are short on money, or do not like to pay for yet another subscription, there is absolutely no need to worry. You can continue to use the templates/themes you downloaded through Fragmentor forever, even after your subscription terminates!
Can I cancel anytime?
Yes, you can cancel your subscription anytime. Access to our editor remains available to you until the billing period ends. We do not offer (partial) refunds for the excess time your license remains active.
What happens if I do not renew my license?
Upon termination of your subscription, all domains/projects you have active at the time will remain available forever. However, in order to change the domain or download new files, you are required to extend your license.
How do licenses work?
Each project you create needs to be linked to the domain name you will use to host your Tebex store on. Hosting template files on any other domain is not allowed.